Madame President and Members of the Senate; Mr. Deputy Speaker and Members of the House of Assembly; Bermuda has been tested. Our families, systems, and institutions have been confronted with immense strains that have threatened to radically alter Bermuda's and Bermudians' way of life. In the face of these trials, the Government is determined to lead an economic recovery that is centred on restoring the hope of the people today and embracing the potential of the Island's future.
In his work "Meditations of the Heart" Dr. Howard Thurman noted: 
"Whatever may be the tensions and the stresses of a particular day, there is always lurking close at hand the trailing beauty of forgotten joy or unremembered peace."
It is the Government's responsibility to aid in easing "the tensions and stresses" of this unprecedented age. 
The cost-of-living relief package recently approved by the Legislature will continue to deliver that aid, bringing relief to the people in those areas where costs continue to rise. The Cost of Living (Essential Commodities) Regulations 
will be brought into force this month, prescribing how the Cost-of-Living Commission will monitor the price of essential commodities and confirming those commodities previously outlined as essential and which attract a 0% rate of duty.
Deliberate action by the Government provided the economic bridge that assisted many Bermudians through the harshest days of the pandemic. 
As we dare to speak in post pandemic terms, the need for Government-led action remains very real. People still need help and the Government's legislative programme will help families to better meet their needs, supporting businesses to encourage growth and job-creation and modernizing those systems helping the Island's most vulnerable citizens. Read the full Throne Speech 2022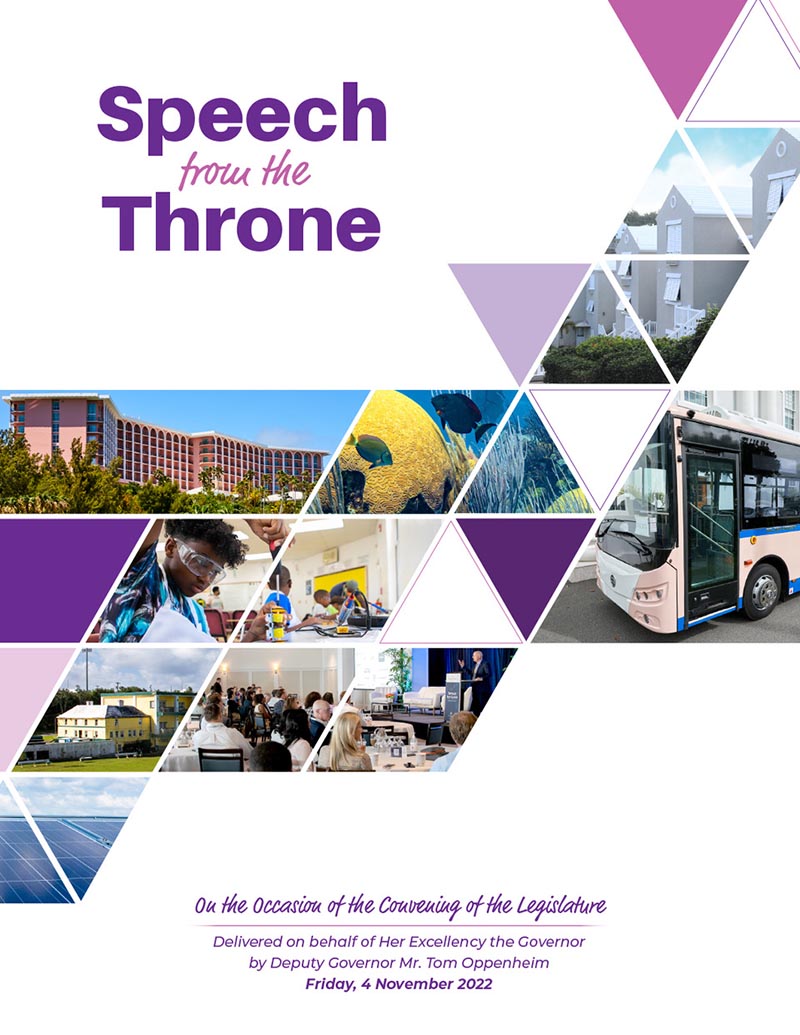 Speech from the Throne
On the Occasion of the Convening of the Legislature
Delivered on behalf of Her Excellency the Governor
by Deputy Governor Mr. Tom Oppenheim
Friday, 4 November 2022