Since March 2020, the coronavirus pandemic has severely impacted Bermuda's economy. While decisive action by the Government of Bermuda has largely protected the country on the health front, the island's community will continue to experience economic challenges brought on by the pandemic.
While economic challenges are being faced globally, bold decisions are being made by the Government of Bermuda as we continue to navigate this unprecedented period.
This Economic Recovery Plan ("ERP") responds to the urgent need to safeguard and secure our economic future. It aims to combine fiscal responsibility with a clear path to growth, employment and greater economic equity.
The full Summary Report of the ERP can be found below.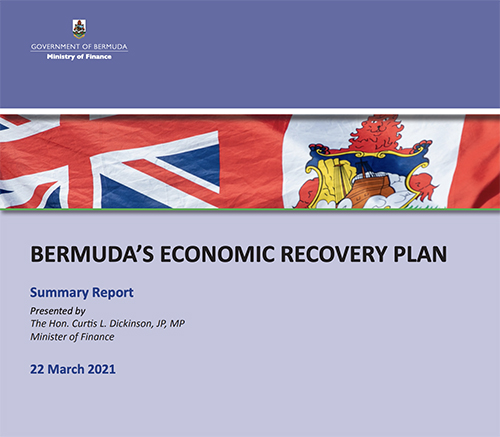 Key Elements of the Economic Recovery Plan
A three-phased approach to the development of the ERP has been taken.
Preparatory work in Phase 1 involved identifying the objectives, the guiding principles and a preliminary list of initiatives; and was undertaken from July through September 2020.
Phase 2, involving developing economic models, prioritising initiatives, and creating an implementation plan, was undertaken from October 2020 to February 2021.
Phase 3 involved the development of a 'blueprint' ERP with a detailed plan supporting the effective and efficient implementation with appropriate Cabinet oversight.
In parallel to the ERP, Bermuda will continue to move forward with planned educational reforms and other social policy measures, assessing possible areas for tax and pension reform, as well as additional government initiatives to support the vibrancy of Bermuda's international business sector.
Ministerial Statement: Update on the Economic Recovery Plan (ERP)
The Economic Recovery Plan (ERP) combines fiscal responsibility with a clear path to growth, employment, and greater economic development. The ERP comprises 31 priority initiatives focused on seven main themes. It was developed in 2020 in response to the impact of the COVID-19 pandemic. Phase 3, implementation of the ERP commenced in March 2021. A dedicated Project Management Office (PMO) was established in June 2022 to ensure successful implementation of all the initiatives under the ERP; working to monitor, track, report and lend assistance where required. Read more…
Economic Development Strategy 2023 - 2027
On 15th June 2023, the Minister of Economy and Labour, the Hon. Jason Hayward, JP, MP, announced that the Ministry of Economy and Labour was releasing a national Economic Development Strategy for Bermuda.
The Economic Development Strategy sets out a roadmap which provides a clear path to guide Bermuda to sustainable economic growth and development. It will enhance Bermuda's business ecosystem, increase its global visibility and competitiveness, and promote investment. 
The Strategy sets out five strategic priorities, one of which is the continued execution of the Economic Recovery Plan.
To read the full statement, please click here.
e.g. energy regulatory sandbox, digital/FinTech, marine development zone.